Mobile Bar Hire Yorkshire
Our mobile bar hire services are available throughout the Yorkshire region for your corporate event, gala, garden party, wedding, anniversary, private party, festival, summer fete, charity fundraiser, community event or any other special occasion.
Our fully staffed bar is suitable for any location, inside or outside, serving cold beer, lager, cider, gin, vodka, rum, wines and soft drinks to your guests. We have several bar options available to suit any event, large or small, that will be delivered in a professional manner.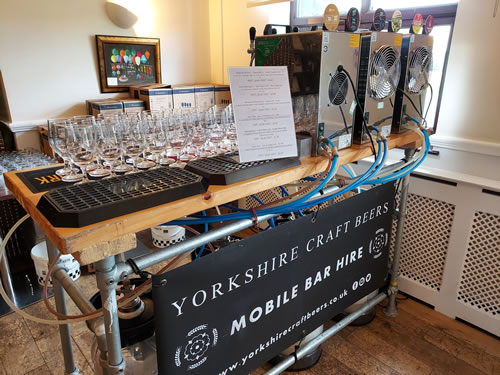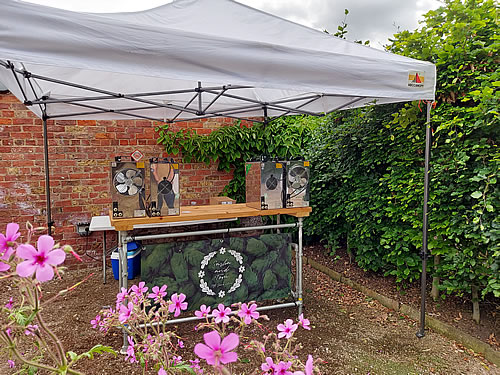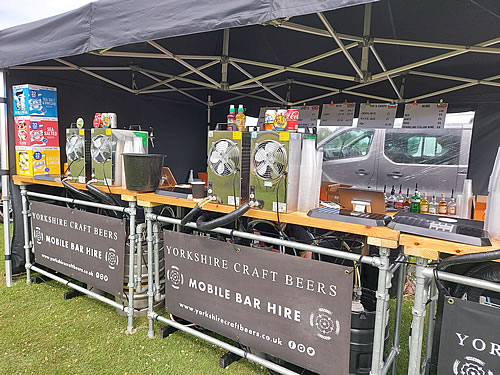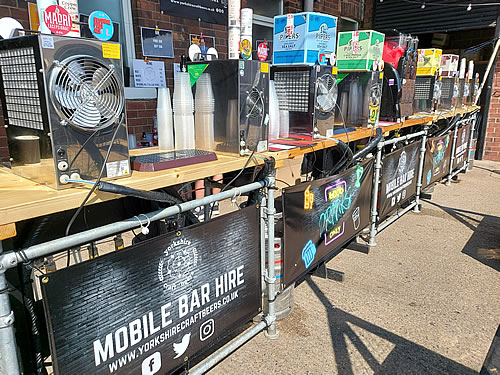 Your guests will enjoy a range of fresh craft beer sourced from high quality breweries from Yorkshire and the UK. If you want to choose your own beer we will do our best to make this happen where possible.
All areas of Yorkshire are covered including Castleford, Pontefract, Rothwell, Garforth, Leeds, Wakefield, Bradford, Huddersfield, Harrogate, Doncaster, Barnsley, York, Sheffield, Halifax and Dewsbury.
We are fully insured for any size of event and will provide a copy of our Public Liability Certificate on request.
MOBILE BAR HIRE PRICES
Private/Corporate Events:
There is an upfront non-refundable fee to secure our mobile bar for your event. This hiring fee depends on the duration, size and location. For example, if your event has 100 guests, is 4 hours long, has mains electric available and is within 10 miles of Castleford then the fee would be £200 (+VAT).
The hiring fee for larger and/or longer events may attract discounts, especially if the client requires a pre-paid bar. Please fill in the enquiry form so we can give you a bespoke quote.
There is no minimum spend on drinks so you can relax with your guests and enjoy your event without worrying about any extra fees.
Large Festivals:
For large music, food and drinks Festivals there are no upfront costs and we will pay a percentage of the takings that is agreed at the time of booking. We realise these types of events may have other bars attending so if you wanted us to serve specialist craft beer only, please let us know.
Large Charity/Community Events:
For large events that are raising funds there are no upfront costs and we will donate a percentage of the days takings after we have covered our costs, this amount is dependant on the duration, size and location of your event.
Small Charity/Community Events:
For small events there is an upfront fee of £200 (+VAT) that will be refunded if the bar turnover is £400 or greater on the day. If turnover exceeds £600 we will make a financial contribution to your cause.
ALCOHOL LICENCE
The premise where the alcohol is to be served must have a licence to permit the retailing of alcohol for the duration of the event and the licencing law will be in operation. If the premise already has a license we will require a copy at least 1 month before the date of the event.
If an alcohol licence is required we will apply for it on your behalf. The fee to you is £21, this is the cost price, we don't charge any extra for this service.
OUR CLIENTS
We have supplied our mobile bar for events large and small run by the RSPB, Sky Bet, Armed Forces Day, Timeform, Friarwood Festival, Yonder Festival, Custompac, We Are Wakefield, Brierley Gala, Newby Hall and Pontefract Racecourse.


CLIENT REVIEWS
"Thank you for Saturday, we couldn't have asked for a better wedding day. Your mobile bar hire service was nothing short of superb. People commented on how lovely, helpful and hardworking you all were. I don't think I got to try all the beers on the day but my glass was never empty. My crazy beer friends were very impressed, as were the gin fans."

"Great event! Excellent variety of drinks that suited everybody and a very professional service, thanks."

"I can't sing their praises enough, the service from the first phone call was outstanding. So organised, friendly, efficient, and the products were of the highest quality. Many thanks, we will definitely be hiring you again."

"We booked their popup bar for our wedding, James and his team were widely acknowledged as the star performers, ensuring everyone was looked after all of the time."
ENQUIRY FORM
Please submit this enquiry form with as much information as you can then we will contact you to discuss your requirements. We need at least 4 weeks notice to prepare your mobile bar.