LOYALTY CARD
Since the day we opened our little craft beer shop we have been humbled by the amazing support we have received from our customers, many of which we would like to call our friends. Even during these unprecedented times, where everybody has been effected in one way or another, we continue to get great support.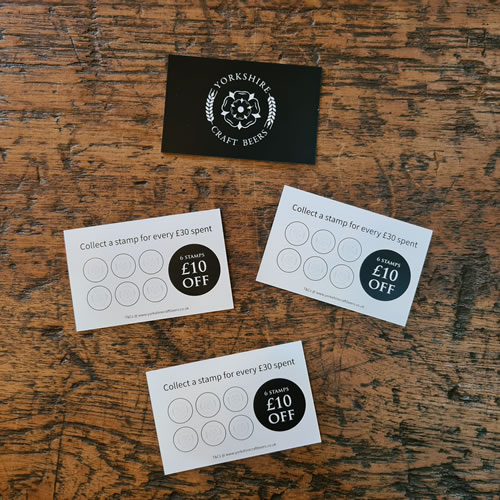 We now want to reward all our customers for their continued support by introducing a very simple Loyalty Card. For every £30 you spend your card will be stamped and when you have 6 stamps you can redeem your Loyalty Card on your next order and receive £10 OFF. Pick one up on your next visit to our shop and start saving money!
TERMS AND CONDITIONS
The Loyalty Card must have 6 stamps to be redeemed with each stamp representing a minimum spend of £30 on products from our shop in Castleford. The Card will receive a single stamp for every £30 spent, e.g. spend £60 and receive 2 stamps, spend £90 and receive 3 stamps etc. The customer cannot redeem the Card on the transaction that received the final stamp. When the Card is redeemed the customer will get £10 off that order. The Card has no cash value and no change will be given. If the new Card is to receive a stamp for the transaction that receives the £10 OFF, that transaction must be a minimum of £40. The Card is non-transferrable, if this is suspected the Card will be cancelled. Each customer can only have 1 Card at a time and more than 1 Card cannot be redeemed on a single transaction. The Card must be presented at the time of the transaction or collection when paid online, if you don't have your Card it cannot be stamped at a later time. Lost Cards with stamps cannot be replaced with the stamps previously accumulated. Yorkshire Craft Beers reserve the right to make changes or cancel the Loyaty Card scheme at any time.